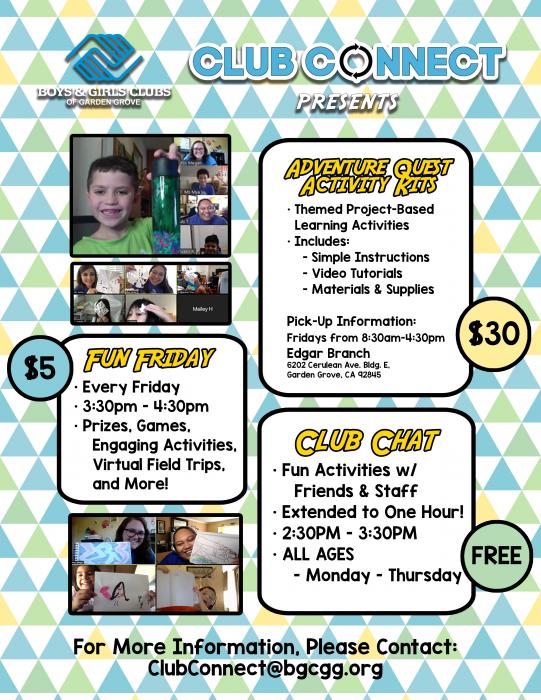 Club Connect
Our virtual program Club Connect provides a variety of programs designed to meet the diverse needs of our members and families:
Club Chat: FREE hour-long programming Monday-Thursday where members have the opportunity to engage in social interactions with peers and staff in a loosely structured virtual environment designed to facilitate social-emotional learning and development for all age groups. Sessions include community building activities, open conversations, and "Member's Choice" which serves as an open forum for youth to receive homework help, share their feelings, or select an activity for the group.
Fun Fridays: Affordable, hour-long special events hosted every Friday from 3:30-4:30pm where members can go on virtual field trips, play games, and win prizes! $5 per child per session.
Activity Kits: Themed, project-based learning activities members can complete at home with minimal screen time. Each $30 Kit includes materials, written instructions, and access to short video tutorials.
Specialized Programs: Club Connect partners with other community organizations to provide FREE or affordable long-term learning opportunities for a variety of topics. We are currently partnering with Dreams for Schools to offer a 10-week STEAM course for members in 2nd & 3rd Grade. Keep checking back for updates regarding future programs!
Watch this video for an introduction to Club Connect:
https://www.youtube.com/watch?v=z6CFqrQ4gZg
Registration & Consent Form: https://form.jotform.com/201594691570157
TUTORING
Affordable, hour-long homework help sessions designed to ensure members are completing homework & schoolwork assignments with an emphasis on comprehension.
Tutoring Options & Fees:
Individual Tutoring: $30 per child per session
Small Group Tutoring: $20 per child per session
Virtual Tutoring registration form: https://form.jotform.com/210526432528148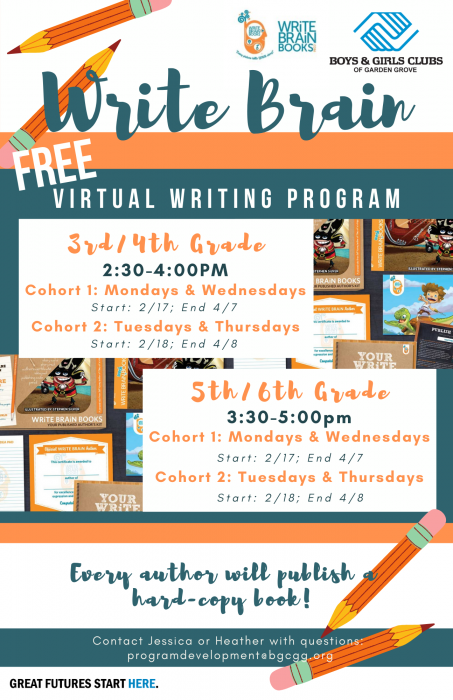 Write Brain Student Author Program
FREE Virtual Creative Writing Program for 3rd-6th Graders! Our current session is closed. The next round of registration will open the week of March 22, 2021
Please note, due to program requirements, only students enrolled in the Free/Reduced Meal Program are eligible to participate. When registration goes live, Click "Register Today" to fill out the Google Forms enrollment application. Confirmation and additional information will be sent to the email address provided in the Google Form.