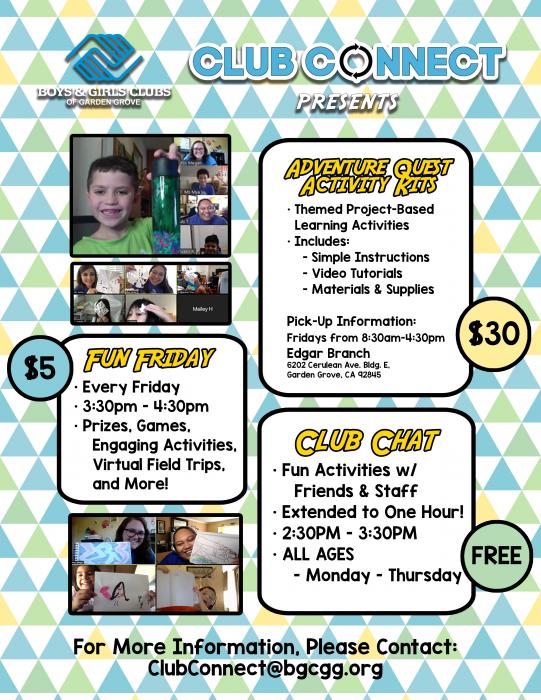 Club Connect
Our virtual program Club Connect provides a variety of programs designed to meet the diverse needs of our members and families:
Club Chat: FREE hour-long programming Monday-Thursday where members have the opportunity to engage in social interactions with peers and staff in a loosely structured virtual environment designed to facilitate social-emotional learning and development for all age groups. Sessions include community building activities, open conversations, and "Member's Choice" which serves as an open forum for youth to receive homework help, share their feelings, or select an activity for the group.
Fun Fridays: Affordable, hour-long special events hosted every Friday from 3:30-4:30pm where members can go on virtual field trips, play games, and win prizes! $5 per child per session.
Specialized Programs: Club Connect partners with other community organizations to provide FREE or affordable long-term learning opportunities for a variety of topics. We are currently partnering with Dreams for Schools to offer a 10-week STEAM course for members in 2nd & 3rd Grade. Keep checking back for updates regarding future programs!
Watch this video for an introduction to Club Connect:
https://www.youtube.com/watch?v=z6CFqrQ4gZg
Hunter Loves Club Connect
Hunter really enjoys the opportunity to attend! He enjoys working with all the teachers and doing the various activities. It's a great opportunity for him to chat and connect as there isn't a lot of talking during classroom zoom. We try to have him attend a few days a week as long as he's finished with his asynchronous work and if we don't have any other commitments at the time. I think it's held at a good time and for a good amount of time. - Hunter's Parent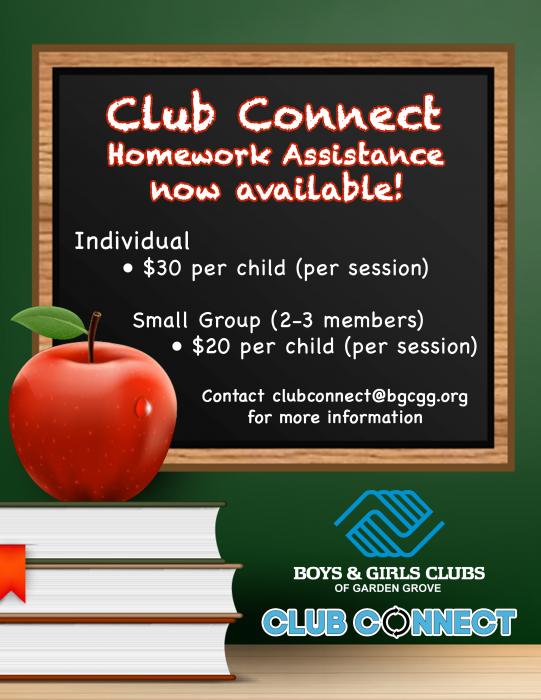 HOMEWORK ASSISTANCE
Affordable, hour-long homework help sessions designed to ensure members are completing homework & schoolwork assignments with an emphasis on comprehension.
Options & Fees:
Individual: $30 per child per session
Small Group: $20 per child per session
Virtual registration form: https://form.jotform.com/210526432528148