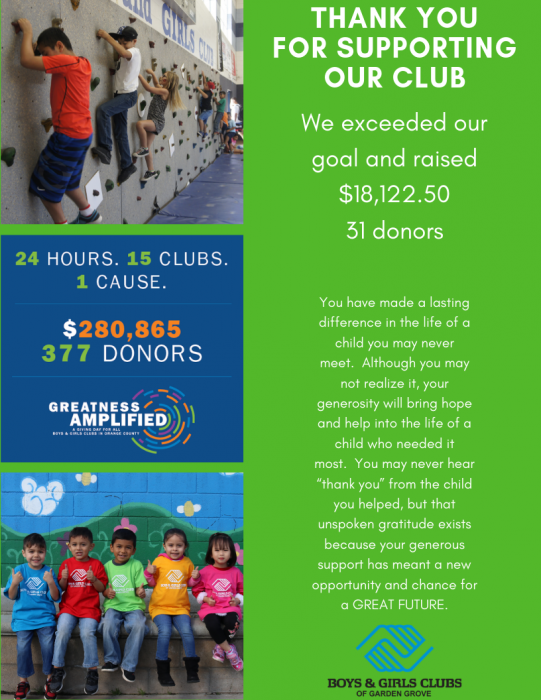 Your investment helps the Club develop community-based solutions that address the challenges and obstacles our youth and families face on a daily basis and creates a healthy and safe environment that allows our youth to reach their full potential.
Why invest in the Boys & Girls Clubs of Garden Grove? There are 5,000+ reasons to give, below are just a few.
By Supporting the Club
You give our parents piece of mind
Transportation: by helping us ensure that children are being transported in the safest possible way with licensed drivers in safe vehicles to the Club from local schools. Jennifer has attended the Club for three years and relies on the Boys & Girls Club bus to pick her up from school and take her to the Club. Without this service, Jennifer wouldn't be going to the Club, and her parents would struggle to find after school care for their daughter.
Safety is our number one priority and we are raising funds to buy and/or lease new passenger vans and buses, and retrofit current buses to meet California Air Resource Board requirements.
You spark creativity
Exhibit of the Arts: by providing fine arts programming to youth enrolled in each of BGCGG's 58 after-school programs. Seven-year-old Jose found his calling when he picked up his paintbrush for the first time and created a work of art for his parents. His artwork was displayed at our Exhibit of the Arts event with a first place ribbon. The program encompasses ten mediums including monochromatic drawing, multicolored drawing, pastel, watercolor, oil/acrylic, printmaking, mixed media, collage, sculpture and group project along with a digital arts component. The program culminates with an annual exhibit showcasing our members' achievements in each of the mediums.
Help support program supplies (easels, canvases, pastels, paints, special paper, clay, water colors, paint brushes, colored pencils and molding tools) to foster the talents of our young artists.
You create opportunities
STEM: through STEM programs that help level the participation gap and expose our underserved community to opportunities they would be unable to access due to financial burden or language barriers. Five year ago, Leslie had no idea what she wanted to do when she grew up. Today with the help of STEM programs and informative field trips, Leslie has decided to major in civil engineering as she starts here senior year of high school. Members have the opportunity to explore simple machines, create electricity, build small gardens and explore outer space. Activities are designed to be age appropriate and are categorized into second through fourth grade programs, fifth and sixth grade programs, and at the Intermediate level, programming is designed exclusively for our seventh and eighth graders. Programming at the high school level provides practical application of STEM components to prepare teens for college and career opportunities.
Partners like you have opened the door to new opportunities and hands on activities that bring STEM to life for our members.