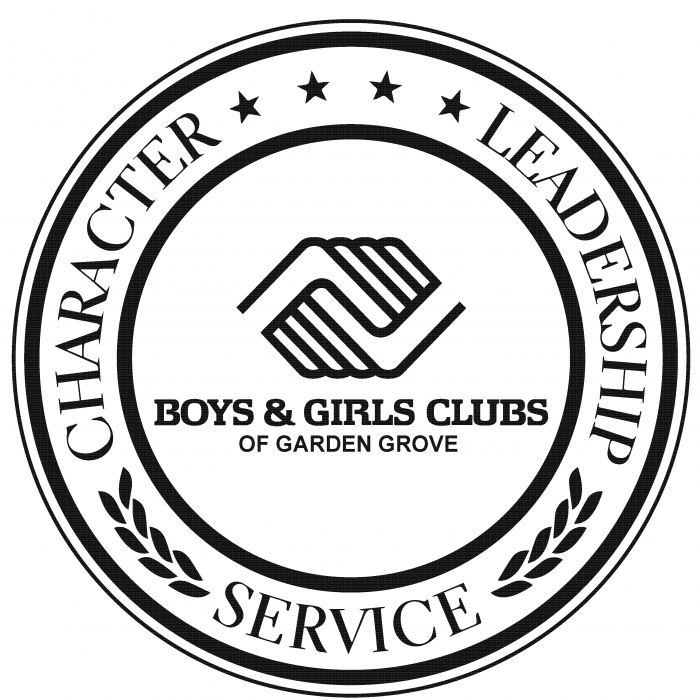 The Youth of the Year Program
Since 1947, Youth of the Year has been Boys & Girls Clubs of America's premier recognition program celebrating the extraordinary achievements of Club members. It is the signature effort to foster a new generation of leaders, fully prepared an equipped to live and lead in a diverse global economy. Each year, one exceptional young person from Boys & Girls Clubs earns the role of Youth of the Year title becoming an exemplary voice for fellow Club members. These young people not only speak for Club youth but also represent what is best in our country's young people.
Youth of the Year participants embody the values of leadership, service, academic excellence, and healthy lifestyles; they exemplify the critical impact Boys & Girls Clubs have on the lives of young people. Being named Youth of the Year is the highest honor bestowed upon Club members. Through the Youth of the Year program, young people showcase their talents and achievement, share their hopes and dreams and work toward a bright and positive future. Youth of the Year honorees at any level – local, county, state, regional and national are shining examples and living proof that GREAT FUTURES START HERE at Boys & Girls Clubs.
Boys & Girls Clubs of Garden Grove has 56 after school Club locations. Each site selects a Youth of the Year to represent their Club. All 56 Youth of the Year members are recognized at a virtual awards reception in January. Each Youth of the Year representative will compete through a series of interviews, videos, and speeches to become one of the 14 finalists that will compete for Youth of the Year of Boys & Girls Clubs of Garden Grove. Our Garden Grove winner then competes at the county level. We have been fortunate to have two of our members within the past four years represent Orange County at the State level.
The finalist were recognized at an Awards Dinner on April 21, at the Marriott Suites in Garden Grove. Each member gave their award winning speech, and the winner of Boys & Girls Clubs of Garden Grove's Youth of the Year was announced. We hope that you will consider becoming a sponsor of Youth of the Year and host a finalist and his/her family in 2024. More importantly, a portion of your event sponsorship goes to the Lt. John Reynolds Youth of the Year Scholarship Fund. For more information or to confirm you sponsorship, please contact our Resourece Development Department at 714.530.0430 ext. 1921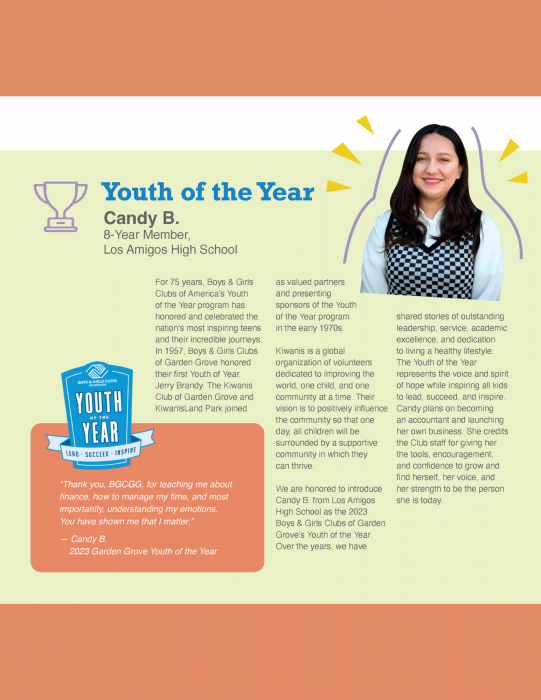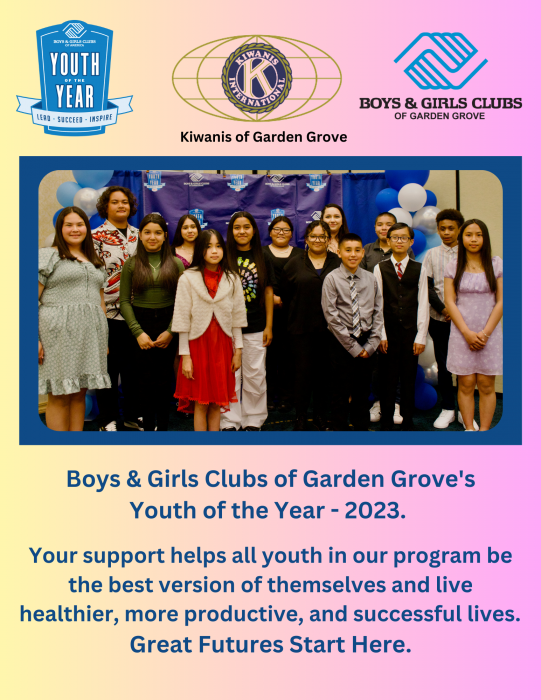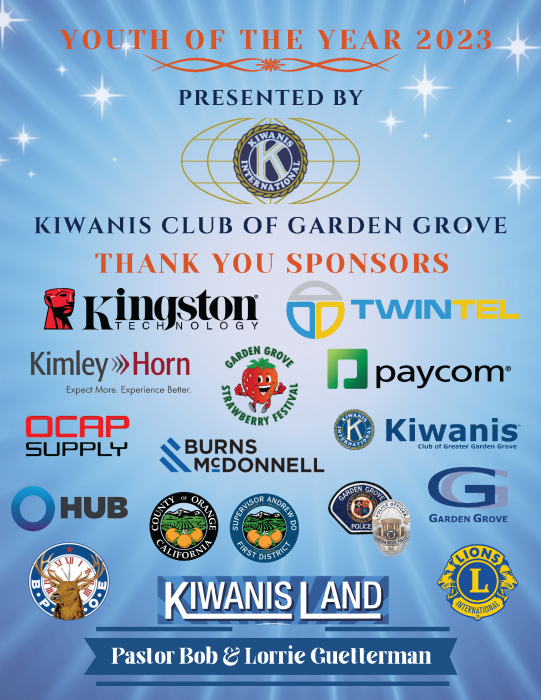 Thank You to our Youth of the Year Sponsors
As a sponsor, these companies hosted a youth and his/her family along with a staff at the Youth of the Year recognition dinner on April 21, 2023. Each sponsor introduced their sponsored Youth of the Year before his/her speech and assisted with the awards presentation. Youth received a financial award from the Lt. John Reynolds Youth of the Year Scholarship Fund to pursue their educational goals.